The emergence and demand of smart cities
Urbanization is rapidly intensifying. Because growing cities require more infrastructures, consume more energy and produce more waste, they face the challenge of scaling while also reducing greenhouse gas emissions. To increase infrastructures and capacity while decreasing carbon emissions in cities, a paradigm shift is required – cities must use digitization and wireless technology to operate smarter, producing and distributing energy more efficiently and prioritizing renewable energy. Smart Cities are cities that improve operational efficiency and reduce costs by collecting and analyzing data, sharing information with its citizens and improving the quality of services it provides and its citizen's welfare. Smart cities use Internet of Things (IoT) devices such as connected sensors, lighting, and meters to collect the data. The cities then use this data to improve infrastructure, energy consumption, public utilities and more. The model of smart city management is to develop a city with sustainable growth, focusing on the balance of environment and energy saving.
In order to meet the new mode of smart city management, smart light poles with both lighting and intelligence have become the first choice for smart cities .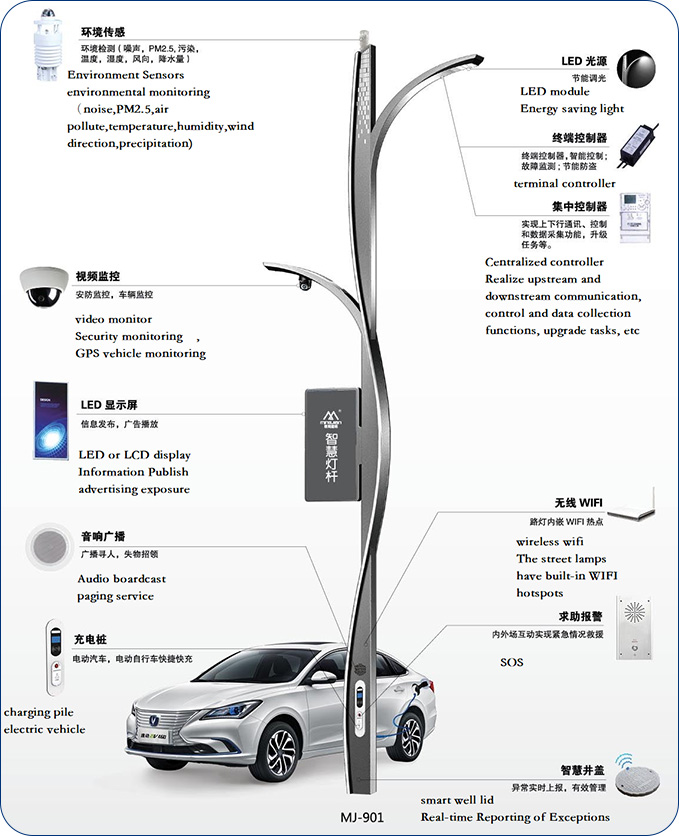 What can we do on smart pole ?
LED Lighting
Warning
Multi-language Selection
Interactive
One-key alarm
Atmospheric monitoring
LED screen
USB mobile charging
The electric car charging
Sound system
WIFI AP
SOS
The company covers an area of 20000 square meters, with 800T hydraulic linkage 14 meters bending machine, 300T of hydraulic bending machine, two light pole production lines, new bring in 3000W optical fiber laser plate tube cutting machine, 6000W fiber laser cutting machine, multi CNC bending machine, shearing machine, punching machine and rolling machine.
We have professional, independent production capacity and technology of street light, high pole light, landscape light, city sculpture, the cultural customized light, yulan light, smart light, garden light, lawn light, high bay light, LED module and others, and equipped with various lamps and lanterns, light source and other electrical appliances.
---
Post time: Sep-19-2022